Discover the future of office productivity with our hassle-free office equipment sales. We commit to a seamless experience that prioritizes your needs, so you can focus on what truly matters – growing your business.
Getting started is easy! Click on either of the buttons in the above banner, check out a few of our most popular options, and click the "Request Quote" button on the product information page to get in touch. We'll reach out to you promptly.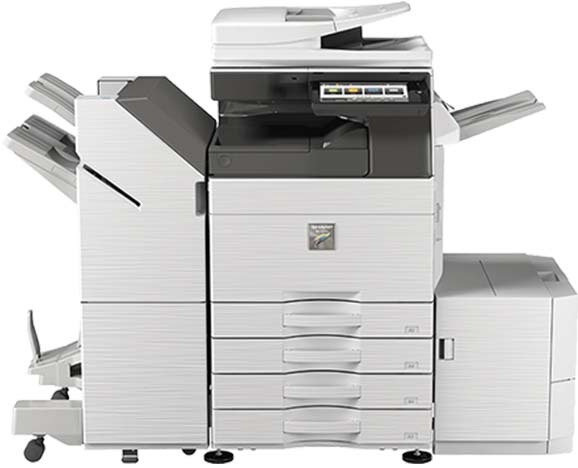 WHO WE ARE
Since 1985 Southern Office Machines has developed a reputation as a leader in the Office Systems industry. Our company is diverse in serving our many clients…offering both sales, service and rental of today's leading document management products.
When you buy from a local owned business you are helping: a little girl get dance lessons, a little boy get his team jersey, a mom and dad put food on the table, a family pay for their mortgage, or a student pay for college.
Southern Office Machines employees are committed to providing 100% customer satisfaction with their can-do attitude. Whatever your concern, question, or problem might be from equipment selection, to financing, to service availability, each employee takes the approach of saying:
"YES" To Our Customers
YES
, you can rely on our sales staff to provide superior equipment that's within your budget, whether you purchase, lease, or rent. We'll even guarantee you the lowest price available.
YES, you can rely on technical excellence and unparalleled service.
YES, you can rely upon us to tailor your invoicing to fit your needs.
YES, you can rely on us to find a way to say "YES" to any concern you might have.
YES, we do appreciate your business.
What Our Customers Are Saying
"Many times I find it difficult to find companies that understand the State expects the same results as any private sector client. Southern Office Machines provides a level of customer service that is unmatched in the industry. They are responsive, efficient and professional. Their prices are competitive and their service timely. Whenever given the ability to choose a vendor, I never hesitate to call Southern…."
D. Coburn Director
Georgia Dept of Community Health