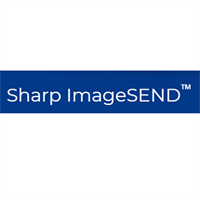 Sharp Sharp ImageSEND
With the award-winning Sharp ImageSEND technology our workgroup document systems connect people and ideas by streamlining business communications, optimizing business processes and increasing productivity. ImageSEND technology helps integrate scanning and faxing into one convenient function. With one-touch access, you can send a scanned document to various destination types.

ImageSEND technology not only increases document workflow efficiency, but also optimizes network administration. With ImageSEND technology your IT administrator uses tools located on a Web browser-based MFP Homepage to create and manage senders and destinations from any computer. Once set up on the Homepage, each sender and destination appear as a "one-touch" key on the control panel of your Sharp workgroup document system.


Improved productivity through quick and easy document distribution
Helps reduce overnight mail costs


Helps reduce the need for filing cabinets and associated cost for office space
Brand :
Sharp
Category :
Software Solutions